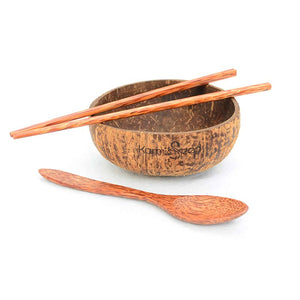 Our beautiful natural coconut set comes with 1 bowl of your choice, 1 set of chopsticks and 1 spoon
Coconut Bowls and their accessories are a wonderful addition to your earth-friendly kitchen. Made from real coconuts discarded as waste, when you eat out of these bowls take a moment to remember how nourishing food can be! Keep them for yourself or give them as a gift. These sets are perfect for anything from smoothie bowls to salads to stir-fry's, everything looks and tastes better out of a Coconut Bowl.
Each bowl is unique just like you!
Made from Real Coconuts
No artificial glues or lacquers
Sustainable products for everyday living
Living with Nature not against it
All of our products are biodegradable
Fair trade practices when sourcing our products
Plant a tree with every purchase
Reusable
Easy to clean
Care Instructions:

Please see the care instructions below to keep your coconut products in tip top shape.
Follow these tips and your coconut bowl will enjoy a beautiful, long life
Hand wash only with soapy water, wipe clean and dry immediately, no dishwashers for these beauties
Avoid putting your bowls in the fridge, freezer, oven, or microwave
Rub with coconut oil every so often to keep the lustre and to add moisture, especially in drier climates.