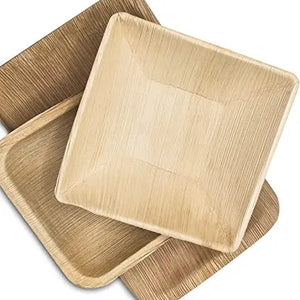 Karmic Seed's Palm Leaf Deep Pyramid Bowls are the perfect alternative to paper, plastic, and styrofoam tableware. This Eco-Dinnerware is handcrafted from naturally falling areca palm leaves which are gathered, cleaned and heat pressed and the process uses no chemicals or waxes. 

It is 100% natural and unlike bamboo, wooden and paper bowls, no tree is harmed to manufacture the Palm Leaf deep square Bowls. Your guests will rave about them, and what's not to love, the Palm Leaf deep square Bowls are: 
Eco-friendly
100% Compostable
Natural aroma and woody texture
Microwave-safe and safe for baking
Refrigerator safe and leak proof
Elegant Chic Tableware
No chemicals or binders used in production
Do not bend or deform under heavyweight
FDA and USDA certified biobased product
This is our soup and salad bowl. So if you love to have chicken noodle soup, tomato soup, potato soups, minestrone and clam chowder, or you want to have your salads take it to be cobb salad, conch salad, macaroni salad any salad you crave. this is our go-to bowl for you.
More Information
Strong enough to use with a knife & fork without the risk of being punctured or leaked
Perfect to use in restaurants/cafes or even wedding receptions/parties
With its nesting design and lightweight structure, this plate is easy to stack, store, and transport throughout your facility.
Can the bowls be reused?
Our bowls are designed for one-time use, however, they may be reused multiple times if they are taken care of.
Simply wash them gently with soapy brush and water.
Do not immerse in water.
Dry flat upside down.
Maintain 7 to 8" clearance from the heating source
We also recommend to store them in a dry location and keep the package sealed until ready for use.
After using, simply toss in the trash with food waste, your green recycling can, or home compost. The

 

Palm Leaf 

d

eep 

s

quare Bowls

 

naturally biodegrade in fewer than 2 months after disposal.